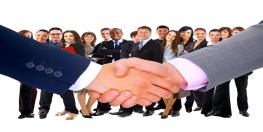 We just helped our 110,194th customer. Seriously, we are that good.
Shark Resumes is a subsidiary of Shadow Management Consulting Inc., a Toronto-based career services company operating since 2002. We specialize in professional career management services, resume writing, career consulting, online branding, executive biographies & portfolio development, and job search strategy. Our clients receive only the best, qualified, industry-recognized expertise. We are truly passionate about what we do!
Our services are 100% confidential.
About Our Writers
We are a team of writers based in US & Canada, with over 85 years of experience in professional writing. Most of our writers are nationally published and have appeared in dozens of publications.

Recognized members of the Professional Association of Résumé Writers (PARW/CC), National Résumé Writer's Association (NRWA), and the Career Management Alliance (CMA).

We have writers that specialize in all industries, including: Accounting, Sales, Business Development, Marketing & Advertising, Market Research, Public Relations, Program Development, Staffing And Recruiting, Non-Profit, Professional Training, Logistics & Supply Chain, Healthcare, Outsourcing & Offshoring, Human Resources, International Trade, Operations, Mining And Metals, Manufacturing, Oil & Energy, Construction, Real Estate, Architecture And Planning, Civil Engineering, Commercial Real Estate, Service Industry, Telecommunications, Aerospace, Defense, Biotechnology, Pharmaceuticals, Airlines/Aviation, Information Technology, Education, Finance, Banking, Insurance, Financial Services.
Founder/Director
Virginia Jeyapal, MBA, CPRW is a human resources maven and job search strategist. She founded Shadow Management Consulting Inc. - career services company, in 2002 that has very successfully delivered immediate, superior results for a global executive and management clientele. Virginia is a Certified Professional Resume Writer, and member of the PARW/CC (Professional Association of Resume Writers and Career Coaches), and the Career Management Alliance (CMA). A trusted industry specialist, she has been invited to provide training sessions on professional resume writing across numerous industries, including - IT, sales, healthcare, education, marketing, operations, HR, finance, and manufacturing fields. Leveraging an extensive background in professional resume writing, she has helped countless clients achieve their job search goals. She has consulted with some of North America's largest job search boards and top executives.